Ink Making Collegia
You can make your own ink quite easily with a few home ingredients.
You will need a saucepan, bowl, spoons, tea strainer, storage container, hot water, teabags, gum Arabic, vinegar, corn starch
When your ink is cool you can bottle it or put it in a small container. Keep in a cool dry place.
Method
Boil water and put in tea bags or tea leaves – leave to steep.
Strain all the liquid from the bags/ leaves. Add 1 teaspoon gum Arabic to the mix and stir well.(if you cannot get gum Arabic you can use Corn starch)
Add 1 tablespoon of white vinegar to the mix- this is to give you an even colour. Put it back on to simmer for another 15 to 20 minutes to get a deeper hue.
Make sure to set a timer and watch the colour change. Allow to cool for 20 minutes before use for best results.
Now you're ready to use your new ink. I have found it works better on handmade paper as it is thicker and has more texture.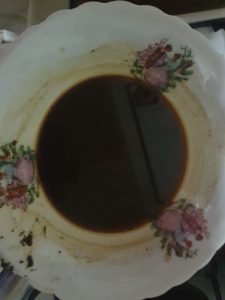 Please note:
This information was sourced from and is freely available on the internet and wiki.
Yule time gift designs by Lady Una Riggs.
The scarf is made from silk and pashmina. I block printed it using a Pegasus motif popular is the modern region of Eastern Iran from as early as the 7th century all the way thru to the 12th.
This textile is derived ultimately from a Sasanian stylisation of the classical Pegasus motif. Similar winged horses appear on an early eighth-century silk fragment in the Horyu-ji, Nara, Japan and a seventh-century Central Asian textile. The distinctive geometric designs on the horse's body, tassels to the neck and legs, and a crescent rosette crown are typical Sogdian motifs. These decorative devices can be traced to sixth- and seventh-century frescoes in western China.
Kyrios(Lord) Stephanos Maniakes Pogonatos displays his magnificent Cloak (made of course by Lady Una)
This is my interpretation of a Byzantine inspired half circle and a bit cloak for Stephanos.
Lady Una Riggs and Kyrios(Lord) Stephanos Maniakes Pogonatos display their Banners
Our banners are Pre 12th century Byzantine military. Designed to hang from a spear when held vertically. For SCA purposes I've made them larger and able to hang sideways so you can see the ribbons nicely.
Historically Byzantium had organised armies similar to modern militaries and ribbons attached to various items like spears or tops of tents were used to identify units. Western European type heraldry wasn't embraced until the 12th century after their return from exile as a result of the 4th crusade.
The rectangular part of the banner usually displayed a cross, and the number of ribbons ranged from two upward. Stephanos and I have adapted the idea of the later period banner to suite SCA sensibilities, and I think it turned out quite nicely. Materials are cotton linen blend and block printed devices in metallic gold fabric paint.
Slavic Head Dress by Lady Una Riggs (Alice)
I have recently been working on my Slavic garb and have finally completed my fancy head dress to finish the look. I don't like the way my head looks in a scarf on it's own, it slips off and is generally annoying. I found some images of Slavic reenactment ladies with structured band to give height and stability to their headware. I made a simple linen cap to cover my hair and act as a base for the rest of the hat. I used cardboard to work out how tall I wanted the band then repurposed a plastic shoe box to make the final draft. Spray adhesive secured felt to the plastic. Then I sewed my chosen fabric onto the felt and tacked on a string of beads. The red and yellow strap holding it all together was made on an inkle loom by a local lady in Hervey Bay. When you look at examples of Slavic head dresses you will see all sorts of rings and dangly ornaments are used depending on the person's rank and region they are from. I liked the ring effect and chose a couple of silver bangles from my daughter's dress up box. Overall I am very pleased with the final result.
A&S Howard Hall.
Every fortnight Burnfield meets at the Howard Hall to work on our own projects or learn something new. This week Wulfric taught us to make leather bound books.