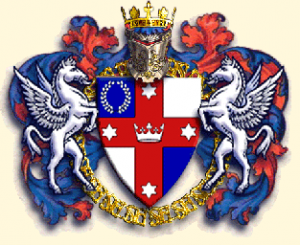 What is the SCA?
 The SCA was founded in 1966 in Berkeley, California. A group of people got together to celebrate May Day and had a party on a medieval theme. They enjoyed themselves so much that they decided to continue with researching and re-creating the Middle Ages. It has grown from a small group to include the USA, Canada, Australia, New Zealand, Germany and various parts of Europe, Asia and the Pacific.
River Haven is a Barony located in South East Queensland. Our borders stretch south to North Grafton, north to Mackey and west near Roma. Here in River Haven we are part of the Kingdom of Lochac (Australia and New Zealand). Within River Haven there are several small groups: –  Canton of Stegby – Warwick, and Canton of Burnfield-Bundaberg, nearby there is the Barony of St Florian de-la-Riviere in South Brisbane and Shire of Willoughby Vale-Ipswich & Redbank Plains.
In the SCA we take on an alternate persona, that of someone who might have lived prior to 1600AD. We take on a different name, we dress in suitable garb, and we sometimes study the period we are supposed to have lived in. Nearly everybody chooses a persona (or SCA) name, and for some that is all they choose to do. Others may go into devising a whole history for their new persona and go to great lengths to be authentic to that persona. What you do is up to you. It depends on how much effort you would enjoy putting into it. You can be an Anglo-Saxon woman, a Viking raider, a Scottish mercenary or an Italian Renaissance man – the choice is up to you.
For your first one or two events, if you don't have medieval style clothes of your own, these can be borrowed from your local Hospitaller. Please contact them well before the event you are planning to attend to arrange this as they may not have appropriate gear with them at the event. This is only a temporary measure and you are expected to get your own gear eventually. When you do start getting your first set of garb together, keep the following hints in mind.
"The SCA is a club, a social gathering within a specific framework. Even though, courtesies still apply. Use Common Sense, Be Polite and Be Tolerant. If you feel you must speak to someone about their behaviour do it privately wherever possible. We are, after all, mostly adults and we engage in flirting, courting, intimate activities, and indulge in legal intoxicants. Mundane law always apply and it doesn't matter if the event is held in public or at someone's home, it is written in the rules of the SCA that no illegal activity will occur at an SCA event. If it does, the event will be shut down until the offenders are removed from site and the activity ceases. Don't be annoying, Don't be an obnoxious drunk and Don't be messy – if you wish to smoke or drink then it is up to you to make sure your butts, your bottles and your messes don't get left lying around."
Advice from a previous Hospitaller.
Welcome to the Current Middle Ages!
Further information can be found at: